As we approach mid-summer, I thought I'd see how you anglers out there are doing and maybe you have some photos of whatever your fish of choice might be.
We've been getting out some. No monsters to report but still landing some decent fish. We went out for a couple of hours today, dead calm and it felt like being in a frying pan out there but we managed to put what I consider the perfect Walleye limit (for our area) in the well – four healthy 17 – 17 ¾" fish. Lots of 14's – 15's taking the bait so the crop for future years looks good.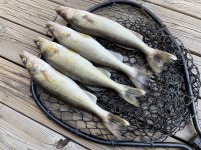 Forgot to mention, it was Canada Day so the neighbors down the bay provided me with a flag in honor of the occasion.
Last edited: